Gyroc Model B – what's the problem??
The Gyroc Model B has been the workhorse machine in many jewellery studios for many years – the smallest 3 pound model is an ideal size for the small scale polishing requirements of jewellery makers.  While the 3A Lortone Rotary tumbler is a similar size and also a fantastic machine for the job, we do find that there are a lot of people out there who learned to use a vibe tumbler and prefer to continue with the method they are familiar with.
Unfortunately, the manufacturer of the Gyroc Model B can no longer supply a working 230V version of this tumbler and therefore we (and other Australian dealers) can no longer supply this machine.  The story is a bit more complicated (you can read more below if you are interested) but here is the current situation.
230V/50Hz Gyroc Model B tumblers are no longer available. The 60 Hertz motor will NOT work correctly in Australia.
Current Options for people needing a tumbler:
You can still purchase a 110V version from the USA and run through a power transformer – warranty support will be limited or non-existent but this is an option you may consider.
You can refurbish an older or 110V machine by fitting a compatible 230V motor – available here. This is a simple job that does not require any electrical wiring.
You can buy a rotary tumbler such as the Lortone 3A instead for cheaper option with similar capacity.
You can buy the slightly bigger Thumler Mini Bowl  (available now) – these have a better build quality compared to the Gyroc but offers only one speed as opposed to the two speed pulley of the Gyroc.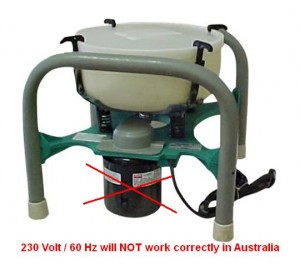 If we can answer any other questions about tumblers for jewellery polishing, please email us.  For more on the whole sorry saga, read more below:
Background:  The Gyroc Model B tumblers have been around for decades and have proven to be very popular, particularly among the jewellery trade for polishing work. There would be literally thousands of these units out in the field and there is still strong demand for them.
Unfortunately, the manufacturer (Lionel Poole – TAGIT) decided at the beginning of 2014 to change to a different 230 Volt motor (it appeared that he was unwilling to order in larger quantities from Fasco and moved to a different supplier). After waiting over 5 months for our order, he sent us 4 sample units using this new motor (we were unwilling to take our full order until we were sure that the new motors would work in Australia).  We paid for 4 test units in June 2014 and all of them failed immediately by overheating and shutting down after less than 10 minutes of operation.  It was very clear to us that the new 60 Hertz motor was completely unsuitable for our power supply and therefore should be withdrawn from sale immediately.
We reported this situation to TAGIT immediately but with no response. By September 2014, we were starting to receive reports from a number of Australian dealers that they had been supplied dodgy tumblers – not only had the manufacturer ignored our warning that the tumblers would not work in Australia, they then refused to do anything to resolve the problem for dealers who purchased new stock without being warned about the motor issue. We were left out of pocket for the test units and freight but we know that some other dealers had much larger losses caused by a problem that was known to the manufacturer.  Further complaints in October '14 and February '15 have been ignored and we are no longer in communication with the manufacturer.
In addition to the motor issue, we have found that tumblers have been sent out with pulleys misaligned or not tightened (sometimes fitted incorrectly), springs have been breaking prematurely and many lids are cracking too quickly. Basically, quality control has now gone out the window and no one from TAGIT seems prepared to take responsibility for the problem.
Aussie Sapphire still has stock of the larger Model A and C Gyrocs – in order to resolve the quality control issues, we now check and test run each machine before shipping so that any minor assembly issues are resolved before the customer receives the tumbler. We now have available a stronger set of suspension rings for use where customers find that they are breaking springs too often. If you have been supplied with a bowl lid where the edge has cracked (within a month or two of purchase), please contact us for a replacement. We have enough spare parts so we can honour our warranty obligations to customers who have purchased Gyroc tumblers from Aussie Sapphire.
However, due the issues mentioned above, Gyroc is now Clearance Stock for us – once we sell out, then we will not be restocking this brand.
Final warning – if you are considering purchasing a Gyroc tumbler where a 230V / 60Hz motor is fitted, then we strongly recommend reconsidering unless you can get a written guarantee from the supplier and are confident that they will support you when the motor inevitably fails.