Cleaning bolts in a tumbler – PART 2
Part 2 of this article covers use of a rotary tumbler for this job.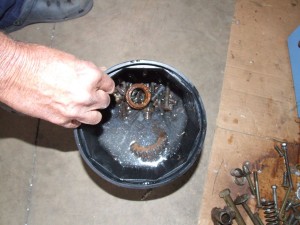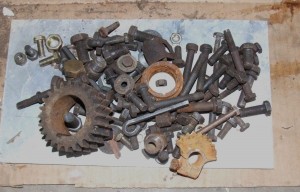 In this test, we have used both #80 and #46 silicon carbide grit as well as medium cut ceramic media (triangle shape) – a bit water is added for the rotary type tumblers – aim to fill the barrel up to about 2/3 full.
This photo shows the batch before it was tumbled – note some of the pieces were extremely rusty and others just greasy and dirty. Again, we would expect better results if parts were degreased before tumbling.
The 12 pound barrel can fit larger pieces in compared to the Gyroc tumbler (note the large cog which was too large for the Gyroc A) has cleaned up well in the larger 12 pound barrel.  As a size reference, the base of the purple sieve is about 10″ (250mm).
Compared to the Vibratory tumbler, the bolt threads did not clean up quite as well and it took a little longer to get this finish (about 2.5 hours). The Lortone tumbler runs quieter. We used the QT12 for this test but you can get a triple barrel tumbler (same 12 pound rubber barrels) for larger scale tumbling.