Expanding Drums
People looking to get into cabbing will often choose an arbor with vertically mounted wheels to grind and polish their gems.  These machines come in a variety of formats with 2, 4 and 6 wheels set-ups being common.
If you have a machine with 6 wheels, generally you will have the full range of grits readily available to you so that you can process your stone without having to change wheels.  If you have a 2 or 4 wheel machine, the need to change wheels can be a little inconvenient.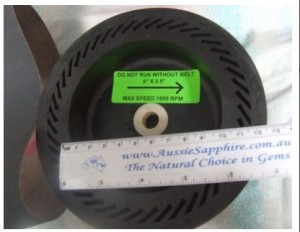 If you are in this situation, you might like to consider using an Expanding Drum which allows you to easily slip a belt on and off in moments.  A cheap and convenient option with the versatility of being able to run silicon carbide or diamond belts – even other materials such as felt.
General Notes
Most belts should fit easily and tighten when drum is run at recommended speeds.  If you have a belt that appears to be too loose, you can try fitting belt so that it runs in the opposite direction or running drum at a slightly faster speed.  Drums need to run at a speed of at least 1725 rpm or the rubber will not expand enough to hold the belt securely on while running.
Do not use too much pressure – a light touch is recommended so that you do not damage or move the belt on the drum.  Heavy handed operators may find flexible wheels more forgiving in this case but you will get better results with a gentle touch when cabbing so it is something to keep in mind generally.
Diamond belts MUST be run with water – do not run dry or you will damage the belt.  Ensure that you have a good coverage of coolant over the whole width of the belt to avoid overheating problems.
Although diamond belts are far more consistent over their lifespan compared to silicon carbide belts, they can benefit from a "break-in" period – this particularly applies to the finer grit belts (#3000 or finer).  If you find your new diamond belt is scratching, we recommend dressing the belt by lightly running a piece of aluminium oxide dressing stick or agate over the surface – make sure you flush well with water while doing this.
Silicon Carbide OR Diamond – which is best?
No easy answer as both have their place.  Silicon Carbide belts are much cheaper so the initial investment is lower.  The main difference here is that the action of silicon carbide belts will change over time – the grinding action starts out aggressive and then gets finer as the silicon carbide particles wear.  Diamond belts are more stable over their lifespan with a more consistent cut rate and surface.
Note that you can mix and match using cheaper silicon carbide belts for rough grinding material and then move to the more expensive consistent diamond belts for the finer touch up work.  If you find that your finer grit silicon carbide belts are wearing quite quickly compared to the coarser grades, you may consider upgrading to diamond belts for these and using the cheaper silicon carbide belts for roughing out.
Expanding Drums or Flex Wheels – which is best?
When deciding how to set up your machine for diamond, the obvious choice is Expanding Drum or Flex Wheel (Nova or similar type).  If you have sufficient space to run a full set of Flex Wheels, this is a convenient way to operate.  However, the use of an Expanding Drum gives you two important advantages:
Flexibility to quickly swap between grits and different belt types.
Wider belts mean extra work space for cabbing.
A standard 6″ Flex Wheel is 1½ wide but an expanding drum belt is 2½" wide – this means using a 6″ expanding drum gives you 66% more surface area of diamond compared to a standard 1½" wheel.   Using an 8″ expanding drum gives you 50% more surface area compared to a 2″ wide flex wheel and a massive 100% more area (double) compared to a 1½" wheel.  Apart from more diamond, the generous width gives you more room to work across the belt making it easier to cab larger stones.   Something to consider when the budget is tight!
Where to Buy?
Aussie Sapphire has a complete range of Expanding Drum belts for the 2 most common sizes:  6″ x 2½"  or 8″ x 3″.  Click the links below to browse our range:
Aussie Sapphire also has a wide range of 6″ and 8″ cabbing machines, expanding drums, etc.  If you need advice, please feel free to contact us any time.  We aim to stock the largest range so you can have maximum choice in lapidary gear.
One Comment