Bursting at the seams
We recently held an "Open Week" for the weekend of Minerama so that people could come and see our full range on display.  Coincidentally, a full container of new lapidary equipment had just arrived so the warehouse was looking pretty full at the time.
We despatched a whole bunch of gear during that week but are keen to keep the shelves full of new and interesting equipment so we've got lots more great stuff on the way – we really will be bursting at the seams but it certainly means there is plenty to choose from.
Just a few pictures: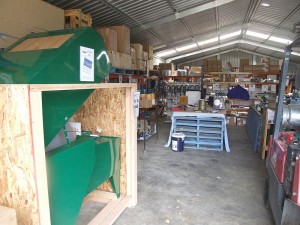 We've got new orders coming all the time so if there is anything you would like to consider, please contact us for a quote.
cheers for now from Aussie Sapphire