The Gyroc Model B has been the workhorse machine in many jewellery studios for many years – the smallest 3 pound model is an ideal size for the small scale polishing requirements of jewellery makers.  While the 3A Lortone Rotary tumbler is a similar size and also a fantastic machine for the job, we do find that there are a lot of people out there who learned to use a vibe tumbler and prefer to continue with the method they are familiar with.
Unfortunately, the manufacturer of the Gyroc Model B can no longer supply a working 230V version of this tumbler and therefore we (and other Australian dealers) can no longer supply this machine.  The story is a bit more complicated (you can read more below if you are interested) but here is the current situation.
230V/50Hz Gyroc Model B tumblers are no longer available. The 60 Hertz motor will NOT work correctly in Australia.
Current Options for people needing a tumbler:
You can still purchase a 110V version from the USA and run through a power transformer – warranty support will be limited or non-existent but this is an option you may consider.
You can refurbish an older or 110V machine by fitting a compatible 230V motor – available here. This is a simple job that does not require any electrical wiring.
You can buy a rotary tumbler such as the Lortone 3A instead for cheaper option with similar capacity.
You can buy the slightly bigger Thumler Mini Bowl  (available now) – these have a better build quality compared to the Gyroc but offers only one speed as opposed to the two speed pulley of the Gyroc.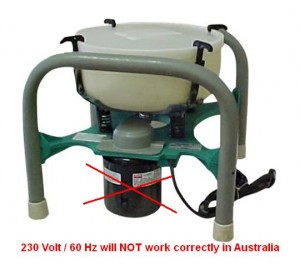 If we can answer any other questions about tumblers for jewellery polishing, please email us.  For more on the whole sorry saga, read more below: Read the remainder of this entry »