I'm not talking about fashion but what kind of kit makes a fossicker or prospector up with the latest?
Whether you are a fossicker, prospector, rockhound, gold detectorist or mineral collector, you probably have one thing in common:  a love of the great outdoors.  One of the best things about any of those hobbies is that it gets you out in the bush to enjoy all that it has to offer.
However, it does mean you sometimes have to lug a heap of gear into quite remote locations sometimes.  So choosing equipment that is portable tends to make your expeditions a lot more enjoyable – particularly on the return trip to the car!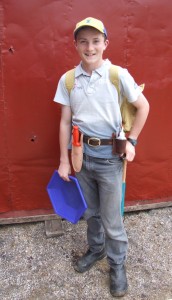 These photos show Patrick modelling a few of the new gadgets that are designed to make your treaure-hunting life a bit easier.
Generally speaking, a good sized backpack is a must.  The one shown here (RSW3)  is not expensive but will easily fit a set of sieves and pan along with room for a few small accessories and water/lunch.  Has a pocket each side and a separate front pocket – made of canvas so if any excess water will quickly dry off.
For general fossicking, you will usually need a long-handled shovel and a good strong bucket – Sorry, you are just going to have to carry these.
The 20L buckets shown here have a good strong handle and are the right size to fit our new Jobe Classifiers.
Digging tools – there are a range of picks, folding shovels and other assorted hand tools to help get at the gold, gems or minerals you are after.  While some of the smaller tools can fit in the backpack (crevice tool, hand guard chisels, folding shovels, etc), the larger geopicks can be carried in a good belt holder.
We have 2 styles available – the Estwing leather sheath is stylish and very secure while the swivel pick holder shown in the photo here is a bit more versatile as it can handle a variety of sizes/styles and offers more convenient access to your pick.
For the Gold Panner – up to 14″ pans will fit in the backpack comfortably.  The snuffer bottle holder shown in the first photo is a great idea as it prevents your bottle floating down the river – this way it is ready to hand whenever you need it.
For the Detectorist – the Jobe Dig-It is not the cheapest tool around but it is fantastic quality and you will soon find it an essential part of your tool kit.  Marked with graduations to help pinpoint a depth, one edge serrated to cut through roots or tough material, the other side sharp with a notch, slightly concave blade to help scoop and stored in a strong cowhide leather sheath.
If you are a bit more serious about gold, we've a great new folding sluice – you can see it in the 3rd photo.  Comes with a convenient shoulder strap or fits easily inside the backpack.  Folds out to a full 50″ or 1.27m length so these are very portable and convenient.
Finally, dont forget one of the most important items – your HAT.  Patrick is modelling one of the very sought after 🙂 ALF hats here – we dont mind what hat you wear as long as you wear it and plenty of sun screen.  Skin cancer is no joke so make sure you cover up and stay safe.
These are just a few of the new items available now at Aussie Sapphire.   We've got plenty more in stock so check out the website at aussiesapphire.com.au
Cheers for now from Aussie Sapphire