At this time of year, we tend to get a number of enquiries from parents wanting to buy a rock tumbler for their children as a gift.
We find that many children are already very interested in the rocks and stones they find in their environment and excited to learn more about them.  Tumbling is a fantastic way to encourage and develop this interest.
Rock tumbling is a very simple process and affordable to get started – younger children may need some assistance and/or supervision but this is a really good opportunity to spend time with your children.
Basically rock tumbling is the process where rough rocks are polished into smooth and shiny stones which can be used for a variety of purposes.
We have designed a kit specially for parents needing a gift idea – this kit contains a 3A tumbler and everything you need to get started in one convenient package – great for anyone aged 7 to 107.  If you want to get a bit more serious, we also have a 33B kit which contains the double barrel tumbler.
Types of Tumblers:
Choosing the correct type of tumbler is very important.  "Toy" type tumblers are readily available from Ebay and some toy shops – these are specially designed to appeal as a gift for children but have some serious limitations.  These usually sell for just under $100 and come with a small kit of abrasive grit and rocks so you can get started straight away.  A couple of examples are pictured below: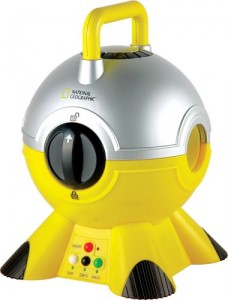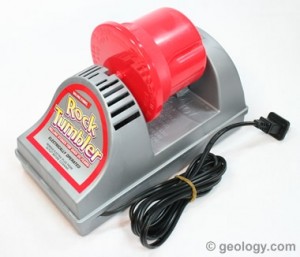 WE DO NOT RECOMMEND THESE TUMBLERS
While these types of tumblers seem very cheap, we do not recommend them for a few reasons:
Small barrel size restricts how much rock you can process.
Light plastic construction does not last well – we have had reports of barrels cracking and leaking after only 1 or 2 batches.
Small size of motor – tends not to last, may fail very quickly – cannot be replaced or repaired.
Plastic barrel with lack of sound proofing means these are very noisy to operate.
Once they fail, difficult or impossible to get spare parts.
When buying tumblers for children, parents are often concerned whether the interest will be a lasting one.  Even though the "toy" type tumblers are somewhat cheaper compared to good hobbyist machines, their short life span and operating limitations mean that you are likely to be disappointed in your investment.  We find a number of customers upgrading to a Lortone tumbler once their toy tumbler fails (often after only one or two batches) so in these cases, it would have been much better to buy a more reliable machine in the first place.
RECOMMENDED TUMBLERS 
When selecting a tumbler for children or those new to the hobby, we recommend you purchase a more reliable machine.  If you buy wisely, even if you find that your children lose interest, you should be able to sell your tumbler for a good price.  We believe this is a much better way to go.
The Lortone 3A is a good choice for this purpose as it is widely sold in Australia, extremely reliable and great value for money.  There are other brands of rotary tumbler in this category such as Thumler which are also good choices.
What to look for:
Rock tumbling will always make some noise but the Lortone has a rubber barrel to drastically cut down on noise.
Rotary tumblers are very simple but spare parts (drive belts, barrels) are readily available for the Lortone and other good hobbyist machines
Motors are designed to work continuously for long periods without any problem – your Lortone tumbler should work trouble free for years with just regular oiling as indicated and perhaps an occasional drive belt replacement.
Good re-sale value – there is a strong market for used lapidary gear of good quality.
 Versatility – these tumblers are useful for other jobs as well – polishing small metal parts or jewellery, processing glass for mosaic work, and a variety of other arts and craft uses.
REMEMBER:
Rock tumbling is a slow process  – you wont get results overnight so make sure your kids are prepared for this.  Some of the harder rocks can take weeks to complete (4 – 6 weeks is typical).   This is not a big problem for 2 reasons:  a) your kids will learn the value of patience as they work through the process and b) the weekly cycle of grit changeover can work in well with your lifestyle where we all tend to be busy with school and work during the week but can spend a little time on the weekend with hobbies and activities.
You will need a range of grinding and polishing grits to smooth and polish your rocks.  Replacement grit is readily available and cheap but you will need some to start so check this when purchasing.  Different polishes are used for different types of material so you may find some trial and error is required to fine tune the process.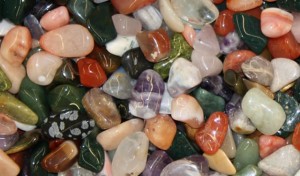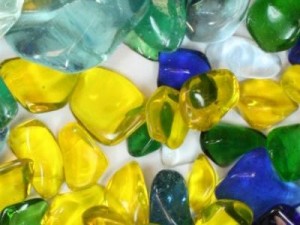 Not all rocks will polish – a rule of thumb is if the rock is shiny when wet, it should polish well in a tumbler; if it stays dull when wet, it is unlikely to polish well.  You should not polish rocks of very different hardnesses in one batch as the soft rocks may be worn away by the harder ones.
You can tumble other materials – try tumbling pieces of glass for mosaic work or for a "beach glass" effect, pieces of metal or various types of "sea beans".  These may require different types of polish but the possibilities are endless.
Hope this gives you some information to start with when considering buying a small rock tumbler.  We are always happy to answer questions on this so feel free to contact us.   If you want to do a bit more reading on the subject, see the article on our website.  If you are ready to buy, we suggest our special Kid's Tumbling Kit with everything ready to go in one package.
Good Luck from Aussie Sapphire